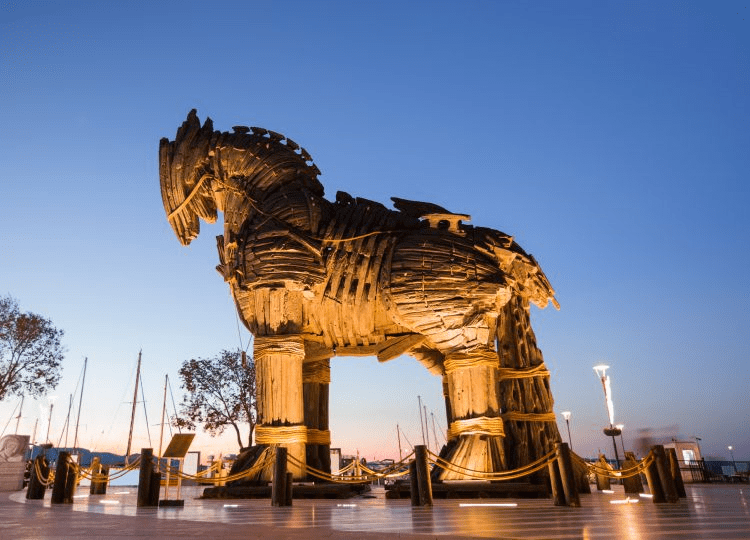 Troy is an ancient city that located in Çanakkale city of Turkey. It was established in 3000 BC. The city is located in Hisarlık province near Çanakkale Strait. This strategic location made Troy attractive throughout history. Because of this popularity Troy's people communicated with many other civilization. After capture of Konstantinopolis (İstanbul) at AC 330 Troy started to loose its popularity.
The first archaeological excavation in Troy was first made by Heinrich Schliemann in 1871. Later W. Dörpfeld and C.W Blegen kept going excavation. Nowadays Tübingen University continuous the works. These works help us to understand the famous history. In 1998 Troy was included in the UNESCO World Heritage List.
The most well-known and popular subject about Troy is Troy War and the Wooden Horse that used in that war. The reason of the war is Helen who is beautiful wife of Sparta's King Menelaos. Troy's prince Paris abduct Helen to Troy. Upon this Menelaos organised the other Greek Kings and attacked to Troy. They fought for years. Anatolian people support Troy. They see Achaians as enemy. They fought for years. At least One of the most intelligent commader of Achaians Odysseus made a great plan. They decided to make a huge wooden horse and hide in it, so they would be able to go inside of city walls. They constructed the horse and the best warriors hidden in it. The rest of the army left there and hidden behind Bozcaada with their ships.
Trojans were surprised when they saw the wooden horse and an alone soldier near it. The soldier was a part of the plan. He told he was sacrificed Gods for wind that needed by ships. He told he had escaped from Achaians, so he hated them. The horse was for Goddess Athena. He told them Achaian plan as cracking the horse would bring Athenas fury on Troy. Other side if they cared the wooden horse Athena would bless them. Trojan believed this story and took the horse inside of city walls. After they celebrate the victory and slept deep under the influence of alcohol. The warriors in the horse caught napping the Trojans. They massacred Trojans with help of the rest of the army. Then Menelaos took Helen back to Greece.
This story has been the subject of many films. Especially the film made by Warner Bros in 2004 is one of the most popular of them. Brad Pitt, Diane Kruger, Orlando Bloom were starring at the film. After this film Troy and The Wooden Horse became more popular and famous.
Today, Troy is a historical site where archaeological excavations continue. The region, which is open to touristic visits, continues to receive visitors from all over the world.