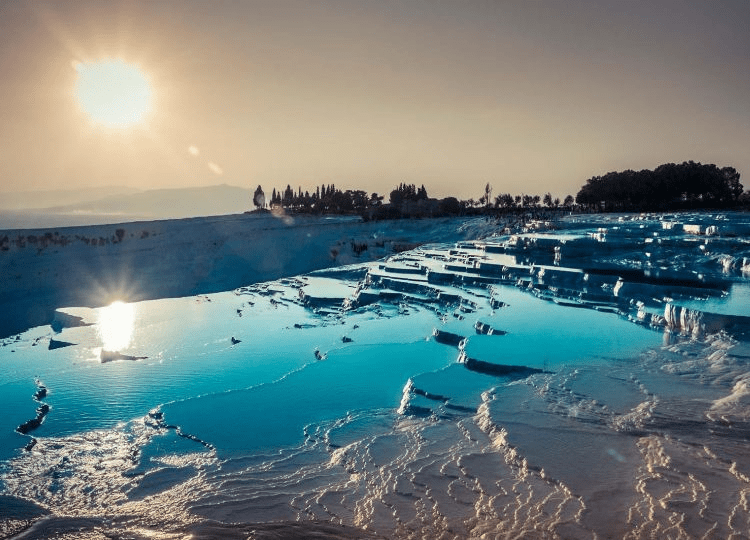 The travertine is a slip formed by a multifaceted chemical reaction and subsequent precipitation of various causes and environments. The geological events that led to the thermal source of Pamukkale affected a large area. In this region, there are 17 hot water areas with temperatures ranging from 35-100 degrees Celsius. Pamukkale source has been used since antiquity.
The thermal water comes from the source with a channel of 320 m length per travertine, and from there it is poured into the travertine floors where 60-70 m of partial sedimentation takes place, and it travels 240-300 m on average.
During contact with oxygen in the air, the water containing high amounts of Calcium Hydrocarbonate in the 35.6 C warming temperature causes carbon dioxide and Carbon monoxide to fly causing calcium carbonate to precipitate and form travertine. The precipitate is in the gel state in the first step. Calcium carbonate which is precipitating in the layer pods and creases is initially a soft gel.
It becomes hard and transforms into travertine over time. However, the movement of the walk through the floors causes the soft calcium carbonate to crumble and disperse. Travertines are provided within a particular program with thermal water control. Water that has been pumped for a long time causes algae and therefore unpleasant pollution in travertines. In the formation of whiteness; weather conditions, heat loss, flow propagation, and duration are influential. Precipitation continues until the carbon dioxide in the thermal water reaches the equilibrium of the atmospheric carbon dioxide.