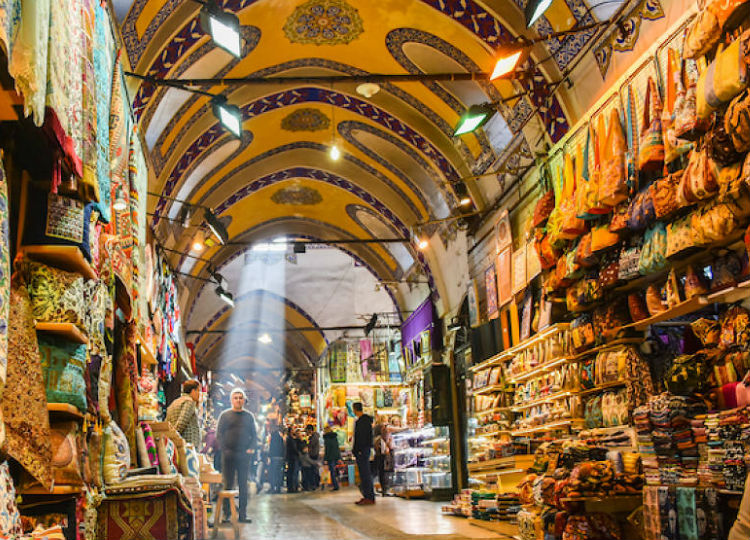 This bazaar was first built by Sultan Mehmet the Conqueror and was expanded during the reign of Sultan Süleyman the Great (1520-1566), and reached its present form in 1701. Its extends over 65 streets, covering an area of 30.702 square meters. It contains a mosque, 21 inns, two vaulted bazaars, seven fountains, a well and 3300 shops. It possesses 18 gates, eight of them large, ten of then smaller. It has surrived five fires, and has been restored and repaired and has reached our present times.

Istanbul can also be visited just for shopping. Grand Bazaar is the first address that comes to mind in the city which offers traditional and modern shopping options. There is more than 3000 shops in the 500-year-old Grand Bazaar, the grandmother of shopping centers. "Turkish handicraft products, Turkish carpets, hand-painted ceramics, jewelery, copper and brass ornaments, meerschaum pipes, leather clothes bazıları are some of the products sold. In the middle of the bazaar, Old Bedesten also has rare antique pieces.
The Grand Bazaar is perhaps one of the most important and complex projects developed by the Ottoman Empire.
Because within 500 years of life, the Empire has experienced tremendous changes, has been faced with successes and failures, very large projects have been implemented. But today none of them are alive. On the other hand, giant sized industries were established, the shipyard, the mint, and schools and palaces were built. But today, very few of them can continue to function.
However, the Grand Bazaar is defined as a giant mechanism that keeps the product identity and economy of the Empire alive. During this long period, he faced many important problems, experienced earthquakes, burned down, collapsed, but was quickly repaired and redeveloped each time.
Because the Grand Bazaar had an important feature next to many covered bazaars in the world. It wasn't just a bazaar. It was one of the most important economic projects of the state for the continuity of the product identity of an empire and to ensure international competition. East-West North-South was a great mechanism to control and balance a multifaceted and effective competition.