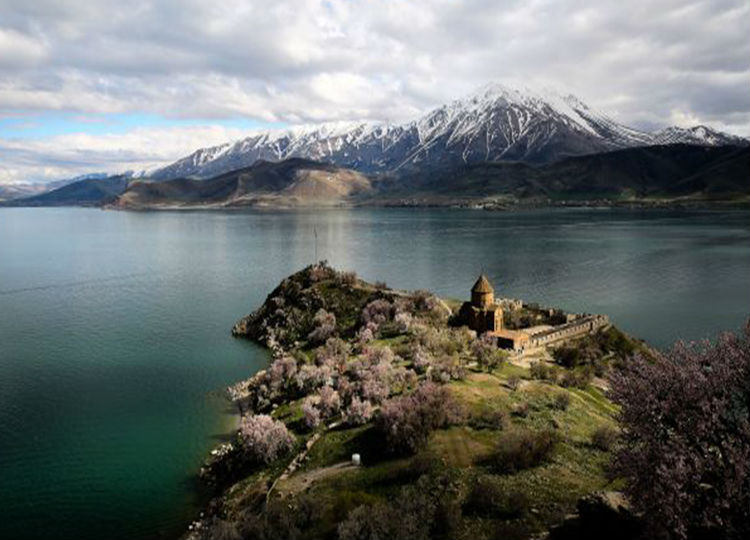 It is located in the Eastern Anatolia region of Van and has an important potential in terms of history, nature, culture and winter tourism. Akdamar Island is located within the borders of Gevaş District of Van Province.
The church, which was founded on the southeast of the island, was built by Gagik, King of Vaspurakan, on behalf of the Holy Cross, between 915-921, by the monk Manuel. The chapel to the northeast of the church dates back to 1296-1336; to the west of the jamaton on 1763; The bell tower in the south was added at the end of the 18th century. The chapel to the north is unknown.
When it was first built, it was converted into a monastery church. As a result of the restoration in 2007, it has been put into service as a Memorial Museum. The church attracts attention with its figurative stone plastic on the exterior facades. In terms of plan, the central dome has a four-leaf clover-shaped cross plan. The middle space is covered with a high pulley, internal dome and an external pyramidal cone. Keeping the dome high clearly shows the vertical effect in the church.
The church is entered through a door in the west and south. The surroundings of the church were surrounded by structures added in later periods. The figurative repertoire of the church is quite rich. Besides, there are various scenes taken from the Bible and Torah. Yunus Prophet thrown into the sea, Hz. Mary and Jesus in his arms, Adam and Eve expelled from Paradise, Hz. The struggle of David and King Goliat, the Palestinian duo of Samson, three young men in the fire, the scenes of Daniel in the Lion are the main ones. On the western front, there is a scene that shows King Gagik presenting his church model. Biblical writers were portrayed in the pediments in four directions.
The frescoes, which have been greatly damaged in the church nowadays, are adorned. These frescoes in general Hz. Topics related to Jesus are studied. The building, which was built with a smooth cut stone material, gives an active appearance to the church. The influence of Central Asian Turkish art on the influence of the Abbasid also increases its importance.